Research
All backed up by clinical studies and research.
We have been Leading the manufacturing of standardised Botanical extracts in-house scientifically & sustainably since 30 years.
Let's talk
Published on 08 Jun 2021

Rhuleave-K : The natural Pain support wonder

Rhuleave-K , is a unique product comprising of the extracts of curcuma longa and Boswellia Serratta as a high dissolution combination made by a unique SPEED Technology. The technology transforms the ingredients to act fast on the area causing pain, helping fast relief.
In a randomized active controlled open label study, published in 2020, 88 healthy subjects with acute musculoskeletal pain were randomized to receive treatment capsule (Rhuleave-K; 1,000mg/d) or 1,000mg/d acetaminophen for 7 days. Change in pain intensity and pain relief at first 6 hours, 3 days, and 7 days were measured. The onset of analgesia was measured by perceptible pain relief and meaningful pain relief. Other measures were McGill Pain Questionnaire and Patient Global Impression Change. Results: The treatment formulation resulted in average magnitude of pain relief comparable to the acetaminophen. Sixty-six percent of subjects in the treatment group reported positive response in pain relief (≥50% max TOTPAR; total pain relief) after 6 hours, compared to 73% of control. Seventy-three percent of subjects on treatment were considered positive responders, compared to 80% in the control group. The average time of onset of analgesia was 1 hour for the treatment group, versus 0.83 hour for control. At the end of day 3 and 7, there was significant improvement (P<.001 for day 3 and day 7) in the pain condition of treatment group and was comparable to control (P=.436 for day 3 and P=.529 for day 7). The total McGill Pain score showed significant reduction in pain with the treatment irrespective of the pain intensity statistically equal (P=.468) to control. Both the groups were equal in providing sensory pain relief (P=.942), but the treatment was 8.57 times significantly better (P=.027) than acetaminophen in reducing the unpleasantness and emotional aspects (affective domain) involved with acute pain.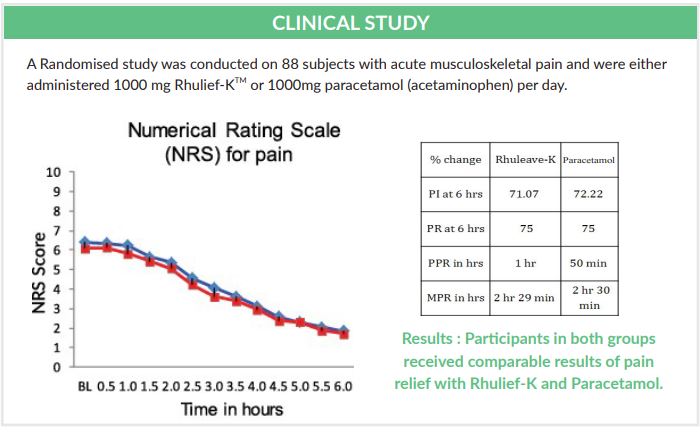 The results showed that the treatment used in the study may act as a natural, fast acting, and safe alternative for acute pain relief comparable to acetaminophen.
Related reading
Natural Preservation solution for a 100% Fruit Juice creation
| 10, Jun 2021 | 3 min read
Arjuna Natural : Versatile Manufacturing
| 10, Jun 2021 | 3 min read
---
Certifications
Strict Regulations For Guaranteed Safety






100% turmeric and contains only turmeric extracts and no other bio enhancers either synthetic or natural. This patented technology one utilizing the therapeutic value of 45% AR-Turmerone , ensures that it is as safe as tur -meric has been in thousands of years of use across the world. Scientifically assured by an extensive study, the only one conducted so extensively for any bio-available curcumin which was done using in vivo and in-vitro models .scientifically assured by an extensive study , the only one conducted so extensively for any bio-available curcumin which was done using in vivo.
Keywords
manufacturing

sustainability
Latest from Industry
Get inspired by the new reads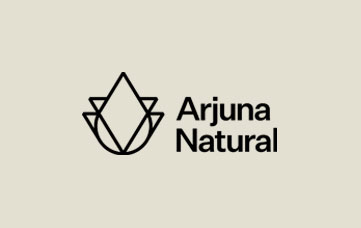 Natural Preservation solution for a 100% Fruit Juice creation
An innovative health food brand, focused on women's health aspired to create Women's first unique solutions for healthy living. They wanted to launch a 100% healthy fruit juice for their customers. Fruit juices are rich nutritional means both for humans and microbes. This translates to the usage of strong preservatives for required shelf life, much ...…Read More
3 min | Published on 10, Jun 2021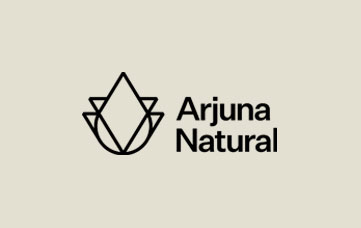 Arjuna Natural : Versatile Manufacturing
Spread over 3 manufacturing locations , comprising over 200,000 square meters of manufacturing space and powered by a motivated staff of over 450 employees, Arjuna's facilities process over 36000 MT of raw material annually. Arjuna prides itself in continuously expanding investing in new technologies, new facilities and new skills for its people. Arjuna has been ...…Read More
3 min | Published on 10, Jun 2021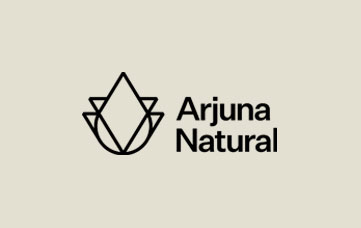 Harvesting them uniquely
The hallmark of Arjuna's solutions is that it is nature derived. As with every product, the quality of the raw materials used determines the quality of the finished product. We recognise this at Arjuna. We also recognise the need to support and nourish the farming community without which life of earth would not be possible. ...…Read More
| Published on 10, Jun 2021
Increase your business growth potential with our patented extracts
Let's collaborate to refine your ideas or built from scratch
Arjuna Natural
Arjuna Natural Ltd is India's leading manufacturer and exporter of standardized botanical extracts for pharmaceutical and nutraceutical industries for more than two decades. Established in 1989, the company has grown...Read More
Get all the Updates about us!