Research
All backed up by clinical studies and research.
We have been Leading the manufacturing of standardised Botanical extracts in-house scientifically & sustainably since 30 years.
Let's talk
Published on 31 Mar 2022
4 minutes
Leaping to a New Future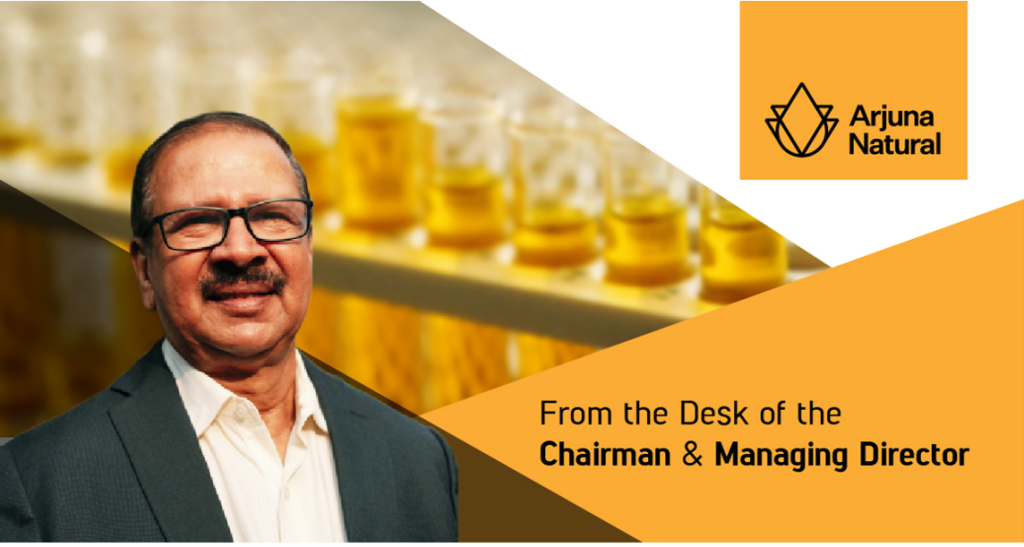 I am writing to you today , with the pride and humility to have had the privilege of serving you for over three decades. Over these years, it has been your support , feedback and appreciation of our efforts that have helped us to innovate and bring winning products that have helped enrich the lives of your customers .
Arjuna Natural has come a long way from its initial beginnings in a rented factory to the innovation leader it is now, with the firm belief of being able to leverage innovation to provide solutions to a demanding world, The last thirty years have seen a sea of change of innovation, science and outlook at a pace never before seen in human history. While we have remained steadfast in our core values, which have always guided us, we have evolved with the times with our eyes firmly fixed on our vision of bettering lives across the globe through innovative natural solutions. Time has come for a quantum leap to be made to realize our vision.
In line with these changing times and reflecting our vision, while holding on to the rich legacy ,we felt there is a need to reflect these changes to our brand as well . We are pleased to adopt the yellow inspired by turmeric, representing knowledge in an Indian context of symbolism while also paying homage to the legacy of the spice that we are most associated with as our signature color . This color on its own represents the potency of our solutions , while the legacy of Arjuna Natural's BCM-95®(Curcugreen®) associated so strongly with the color represents the innovation and the balance that have been the hallmark of Arjuna Natural.
The refreshed logo , inspired by our past , is five tipped, each tip representing the values of focus , passion, trust , agility and integrity that have always guided us. A contemporary representation of a drop through a leaf, it represents the drop of potent life that is the gift of nature as well as the processes that enable us to deliver the potent elixirs of health from nature.
In line with Arjuna's practice of sustainability, we would be implementing these visual changes in all our touch points with you in phases. Together , let us innovate to better lives across the globe.
PJ Kunjachan
---
Latest from Industry
Get inspired by the new reads
Always Looking Forward Towards More Innovation
Join our community to innovate more with science & research
Increase your business growth potential with our patented extracts
Let's collaborate to refine your ideas or built from scratch
Arjuna Natural
Arjuna Natural is India's leading manufacturer and exporter of standardized botanical extracts for pharmaceutical and nutraceutical industries for more than two decades. Established in 1989, the company has grown...Read More
Get all the Updates about us!