Rhuleave-K® - Natural Pain Reliever
Watch Documentary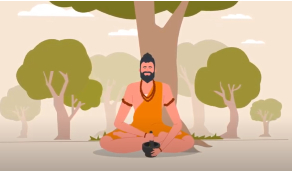 Created using natural bioactive from turmeric, Boswellia and more, Rhuleave-K® is our proprietary formula designed to deliver instant pain relief and reduce inflammation*. It does so by using our patented technology SPEEDTECH® which creates a powerful combination that retains the efficacy of its components. This technology uniformly distributes its components by using a unique matrix formula to achieve accurate filled weight and faster action.
Rhuleave-K® alleviates pain through a holistic approach and is free from side effects like stomach, heart, liver, and kidney issues. It is proven to be safe even at high dosages and has synergistic antioxidant activity.
Its formula is scientifically documented with clinical data proving its efficacy in providing immediate pain relief comparable to Acetaminophen (Paracetamol).
(*Occasional muscle pain or inflammation due to exercise or overuse)
Countries home to
satisfied customers
100% Natural Ingredients
Rhuleave-K® | Fast Pain Reliever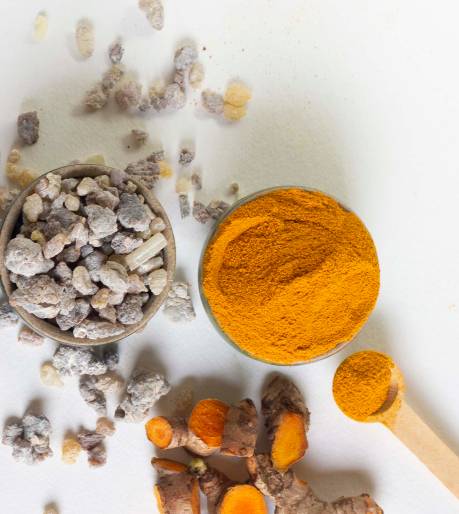 Rhuleave-K® is Arjuna's clinically proven pain support formula which has been proven to provide pain relief. Rhuleave-K® stands out for its effectiveness, derived from the proprietary technology that creates a synergistic combination of components through SPEEDTECH® that uniformly distributes the components to achieve accurately filled weight and faster action. The components have been used as food or medicine for hundreds of years and Rhuleave-K® has been studied for safety.
100% Pure & Natural
Non-GMO
Non-toxic additives
No harmful solvents
GMP compliant
Prop 65 compliant
Proprietary technology
Faster action
Higher product uniformity
The Health Benefits
Discover the many health advantages of Rhuleave-K®
The various formulations of Rhuleave-K®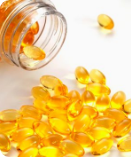 Oil Miscible
For soft gel manufacturing
Dosage
A single dose of 1000 mg of Rhuleave-K® is recommended in case of acute pain.
The Remarkable Nature Of Rhuleave-K®
A formulation trusted by experts across the globe
®. Technology transforms the ingredients to act fast on the area causing pain, helping fast relief. " data-side-description2="
In a randomized active controlled open label study, published in 2020, 88 healthy subjects with acute musculoskeletal pain were randomized to receive treatment capsule (Rhuleave-K®; 1,000mg/d) or 1,000mg/d acetaminophen for 7 days. Change in pain intensity and pain relief at first 6 hours, 3 days, and 7 days were measured. The onset of analgesia was measured by perceptible pain relief and meaningful pain relief. Other measures were McGill Pain Questionnaire and Patient Global Impression Change. Results: The treatment formulation resulted in average magnitude of pain relief comparable to the acetaminophen. Sixty-six percent of subjects in the treatment group reported positive response in pain relief (≥50% max TOTPAR; total pain relief) after 6 hours, compared to 73% of control. Seventy-three percent of subjects on treatment were considered positive responders, compared to 80% in the control group. The average time of onset of analgesia was 1 hour for the treatment group, versus 0.83 hour for control. At the end of day 3 and 7, there was significant improvement (P<.001 for day 3 and day 7) in the pain condition of treatment group and was comparable to control (P=.436 for day 3 and P=.529 for day 7). The total McGill Pain score showed significant reduction in pain with the treatment irrespective of the pain intensity statistically equal (P=.468) to control. Both the groups were equal in providing sensory pain relief (P=.942), but the treatment was 8.57 times significantly better (P=.027) than acetaminophen in reducing the unpleasantness and emotional aspects (affective domain) involved with acute pain.
" data-side-image="https://arjunanatural.com/wp-content/uploads/2021/06/relief-for-joint-pains.jpg" data-side-link-title="Read More" data-serving-count="" data-side-panel-link-description = '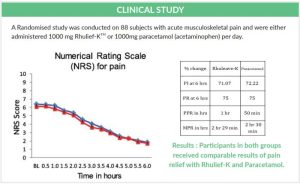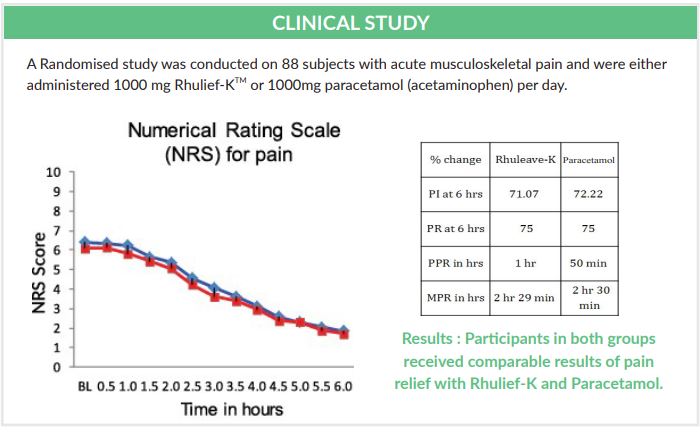 The results showed that the treatment used in the study may act as a natural, fast acting, and safe alternative for acute pain relief comparable to acetaminophen.
' >
The Evidence Of Benefits
The numerous health advantages of Rhuleave-K® have been proven by extensive clinical research.


Read The Research
® resulting in a fast-acting formula for supporting fast relief from pain. " data-side-description2="
Together Curcumin and Boswellia have a synergetic action on pain. Curcumin is established as an inhibiter of the cyclooxygenase (COX) pathway while Boswellia has an inhibitive action on the lipooxygenease (LOX) pathway of pain. Together they inhibit both major pain pathways.
" data-side-image="https://arjunanatural.com/wp-content/uploads/2021/06/oxy1.jpg" data-side-link-title="Read more" data-serving-count="" data-side-panel-link-description = '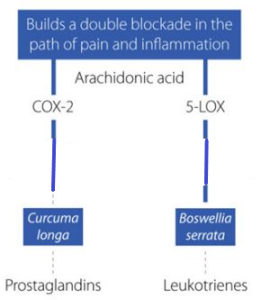 SPEEDTECH®, a unique technology platform developed by Arjuna Natural is at the heart of making this action fast. SPEEDTECH® is a proprietary process whereby actives are diffused evenly in an active carrier. The process which results in a uniform liquid dispersion of actives in the media facilitates better absorption and action, thus increasing efficacies
' >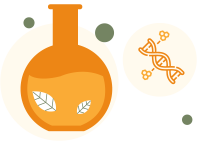 The Mechanism of Action
The mechanism of action of this product has been studied extensively by our experts and is based on scientific breakthroughs.


Read The Research
The Uniqueness Of Composition
This extract has been crafted using advanced clinical formulas and technology that enhance its natural health benefits.


Read The Research
Strict Regulations For Guaranteed Safety